The Labyrinth: Walking a Sacred Path
Each of us, at some point in life, embarks on a journey.
A quest for solace, for truth, for inner peace, for the real meaning of it all.
A pilgrimage to find one's soul. Landmarks are hard to come by, and we can easily become disoriented.
The labyrinth, a metaphor for one's life journey, can help show the way. The very act of walking the labyrinth encourages focus, assists in opening up the self, in creating a place deep inside where new insights and awareness can germinate, take root and grow. Each journey is unique.
People who like labyrinth tend to cross denominational and religious lines to explore them.
7-Circuit Celtic Labyrinth
Labyrinths are a potent symbol in many cultures, and have been for thousands of years. One traditional story tells us that the Labyrinth evolved from observations of the recursive swings of the planet Mercury. In one solar year, Mercury backwards three times and forward four. Seven-circuit labyrinths have been discovered within the ruins of cities of ancient Turkey dating back to 5,000 B.C.E. The Classic seven circuit labyrinth is round. The square versions are either Celtic or Roman. Other styles have been found in classical Greece, New Zealand, North America, and Southeast Asia.
The earliest versions are found in pictographs, drawings upon stones.
The Great Goddess Inanna of Mesopotamia (5,000 B.C.E.) surrendered her seven symbols of identity as she entered the Underworld were, she encountered her Shadow Side, her Dark Sister Ereskigal. Inanna dies, is reborn, and returns empowered reclaiming her seven symbols. (Later, Ereskigal became the model for Lillith, the first wife of Adam.)
With Greek legend when Theseus killed the Minotaur, he defeated the beast at the heart of darkness - and created a myth that is still vibrant and evolving. Roman mosaics often depicted labyrinths as fortified cities. Romans placed symbols of the square labyrinth above doorways for protection.
Christian churches used the labyrinth for prayer and meditation as early as 350.
In medieval Europe, the eleven-circuit labyrinth appeared. They served as alternate paths for pilgrimage after Jerusalem fell to the Muslims, and they symbolized the one true path to Christian salvation.


The design most popular within Christendom comes from Notre-Dame de Chartres Cathedral at Chartres, France. It contains four 7-circuit labyrinth, making for a longer journey. Centuries before, this was a site very sacred to the Goddess and to the Druids.
Labyrinths have been used as ceremonial pathways, protective sigils, traps for unwelcome spirits and for games and dancing. Puzzle mazes have been exercising our feet and entertaining our minds for hundreds of years - and have become a symbol of confusion.
11-Circuit Chartres Labyrinth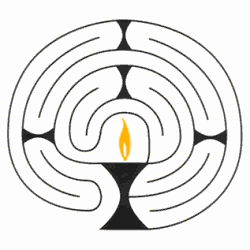 People who like labyrinths tend to cross religious lines. Bob Peach of Atlanta, Georgia, has produced a 6-circuit design based on the Classic 7-Circuit but incorporated the switchback labrys of the Chartres design.
The result is a Chalice Labyrinth Design.
Unitarian Universalists claim the flaming chalice as one of their symbols. In a Christian setting, a Chalice Labyrinth takes on a different meaning and might even be adapted to the Stations of the Cross.

We now have a permanent outdoor Celtic labyrinth at the Unitarian Universalist Church of Fort Lauderdale. Our church is located at 3970 Northwest 21st Ave., Oakland Park, Florida 33309. Our 7-Circuit Labyrinth is at the north side of our building. It is open to the public for walking and meditation. We plan to enhance this area for meditation in the near future. Contact us at (954) 484-6734 or by e-mail to Church Administrator . For directions, we provide an online MAP. Donations for the upkeep of the Labyrinth Project are gratefully accepted in the church office.
"The labyrinth is like an invisible thread that connects us to the sacred."

Today, mazes and labyrinths are more popular than ever before. Their imagery is used in games, films and advertising, while hundreds of new and innovative puzzle mazes have been built to entertain us. There is also a resurgence in their spiritual use by Christians, neo-pagans and the New Age culture. And of course the Web is often seen as a tangled labyrinth of links that ensnare the unwary!

Our Local Guide:
Sophia is a solitary practitioner who connected with the UU Congregation and CUUPS in 1997. She has been drawn to this inward journey and completed our permanent seven-circuit labyrinth. Sophia constructs temporary labyrinths from wood stakes and ribbon tape, and occasionally includes Christmas, otherwise known as Yule, lights. In summer, we take our temporary Labyrinth to Virginia and set it up for SUUSI.

Exercises that we lead:
Sophia and friends construct a seven-circuit labyrinth. Come help and see how this is done. We conclude with a dedication of our newly created sacred space.

Sophia and friends host an occasion for meditation. We present a guided tour of the labyrinth with historical notes. Then everyone is invited to enter the labyrinth with a question, let go as they spiral inward, ground at the center, and then reclaim as they exit. Each of us, at some point in life, embarks on such a journey.

A Blessing of the Labyrinth:
Enter into Labyrinth Time,
Ponder on your life's design.
Spiral down into the core,
Determine what your life is for.
Stand here now in sacred space,
Goddess Spirit in this place.
Spiral out back to your world,
Be not seduced by maddening swirl.

Optional closes for differing times of the day and month:
Waxing Moon in the sky bright,
New beginnings start tonight.
Waning Moon in the sky bright,
All negativity ends tonight.
Waxing moon in light of day,
New beginnings start this way.
Waning Moon hid by the day,
Banish doubt, it must not stay.

A variation upon this Blessing:With open heart and quiet mind.
Approach this place and you will find
That shifting into Labyrinth Time
Reveals anew your life's design.
Bow to Spirit at the start
with reverence in your heart.
Enter now this sacred place,
Goddess Spirit in this space.
Spiral around into the core,
Determine what your life is for.
Then spiral out again and see
The mysteries revealed to thee.
-- A Spiral Blessing from Janis Strope of Ithaca, NY.

Labyrinth Links:
Veriditas, the Voice of the Labyrinth Movement

The Labyrinth Site

The Labyrinth Society

The Journey of Mazes and Labyrinths

Resources for Medieval Studies

Living the Labyrinth : 101 Paths to a Deeper Connection with the Sacred Jill Kimberley Hartwell Geoffrion

The Way of the Labyrinth : A Powerful Meditation for Everyday Life by Helen Curry, Jean Houston

Mazes and Labyrinths : Their History and Development by William Henry Matthews

St. Louis Labyrinth Project

Walking a Sacred Path : Rediscovering the Labyrinth As a Spiritual Tool by Lauren Artress

Exploring the Labyrinth : A Guide for Healing and Spiritual Growth by Melissa Gayle West

More Labyrinths

The Finger Labyrinth

Labyrinth Work

Ispirit Hand Labyrinths

Pax Works, the Labyrinth Builders